News
EV DC Charger OEM Starter Kit Released
by rectifier technologies | 20 Oct 2017 | News & Updates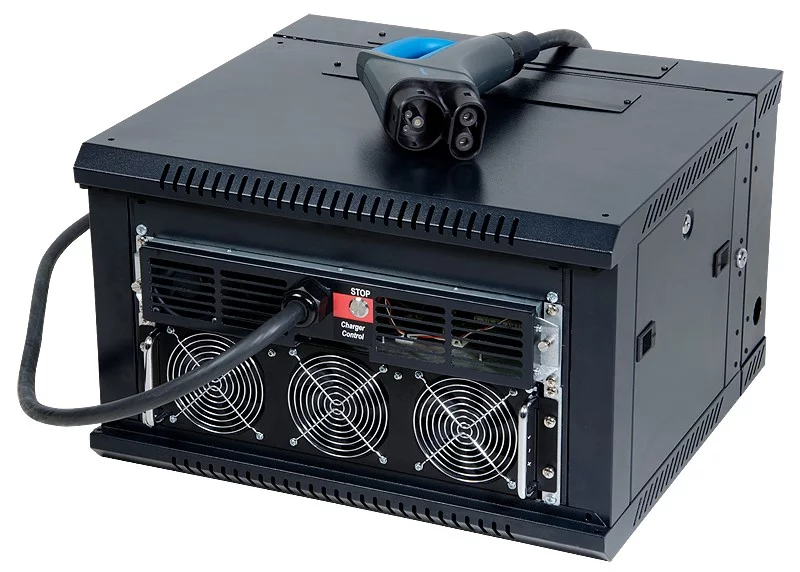 Rectifier Technologies announces the release of an OEM Starter Kit for DC Electric Vehicle Chargers called the 'EV DC Charger OEM Starter Kit'. This kit provides EV Charger Manufacturers access to Rectifier Technologies' DC Charging technology for Electric Vehicles, before bringing it to full production. The EV DC Charger OEM Starter Kit combines power electronics from Rectifier Technologies and IoTecha's control interface.
The EV DC Charger OEM Starter Kit includes the following components and services:
30kW rectifier from Rectifier Technologies with the following specification.
| | | |
| --- | --- | --- |
| Currently Available Models | Input | Output |
| RT15 450V* | 3 Phase – 380, 400, 480 VAC | 450VDC | 30kW (per module) |
*Additional RT15 modules can be purchased to be operated in parallel to build higher powered systems.
IoTecha's CCSoM with Pilot Line Control, ISO/IEC 15118, OCPP 1.6J, Rectifier Control, MQTT Client, and other Key Elements.
IoTecha's I2P2 Cloud Platform providing Over-the-Air Firmware updates, Asset Management, Status Monitoring, and Remote OCPP Client Configuration.
RT has over 25 years of research and development, and manufacturing expertise in switched mode power electronics in industries including Electric Vehicle Charging, Defense, Scientific Instrumentation, Telecommunications, Rail, Utilities and Mining. RT has a range of high-power, high-voltage, high-efficiency power modules suitable for EV Charging. It has also recently released its first 11kW EV DC Home Charger branded as HRE Solutions for the rapidly growing EV charging industry with the goal of reducing the physical size of power electronics and freeing up real estate in EVs, and to provide lower cost and efficient charging options to the market.
"IoTecha's goal is to make Smart and Connected Charging based on Combined Charging System (CCS) and ISO/IEC 15118 easy for EVSE manufacturers and charger operators," stated Oleg Logvinov, CEO of IoTecha. "We are very proud to combine our turnkey solutions with RT's expertise in rectifiers, allowing for a quick and reliable path to market for EV charger manufacturers."
Nicholas Yeoh, Director of Sales and Marketing also commented, "RT is committed to providing cost effective, reliable and high efficiency EV charging solutions to its customers. Our decision to partner with IoTecha made strategic sense, combining the strengths of both companies to provide an easily deployable EV charging solution."
For more information, please visit our Starter Kit Page here.