News
Rectifier Technologies Wins Two Prestigious 2014 iAwards
by rectifier technologies | 07 Jun 2014 | News & Updates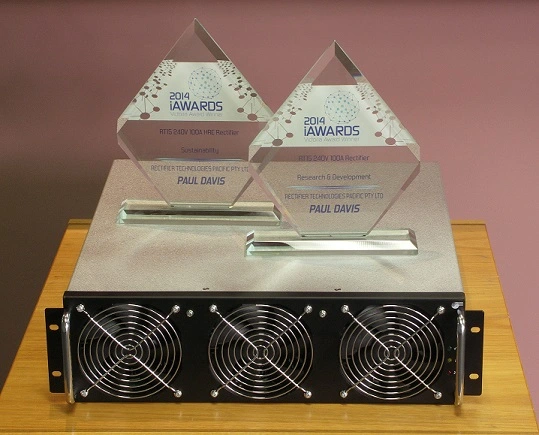 The Hon. Gordon Rich-Phillips MLC, Victorian Minister for Technology, along with CEO of Suncorp Business Services, Jeff Smith announced the Victoria winners of the state finals for the prestigious 2014 iAwards at the 20th anniversary presentation dinner in Melbourne, on the 4th of June 2014. The iAwards honours both companies at the cutting edge of technology innovation as well as leading professionals across the Information and Communication Technologies (ICT) industry. The judging panel consisted of high-profile representatives from the Australian ICT industry.
Rectifier Technologies was presented with 2 awards, the R&D and the Sustainability iAwards for its RT15 product development. "The Research & Development iAward recognises the most outstanding ICT R&D project in Victoria whereas the Sustainability iAwards recognises technology that has been developed in Victoria to improve environmental outcomes to meet community expectations while allowing sustainable and viable business and industry growth".
Rectifier Technologies is now a national finalist and in the running for the National iAwards in the R&D and Sustainability categories, which will be announced at the gala dinner taking place Friday, 29 August 2014. The company winners of the 2014 National iAwards will have the opportunity to compete with businesses from across the Asia Pacific region at the 2014 APICTA Awards (Asia Pacific ICT Awards) in November. This is the first time that Rectifier Technologies has participated in the iAwards in the 20 year history of the awards.
Rectifier Technologies' Operations Manager, Paul Davis, said that "receiving two iAwards for the RT15 is a testament to the innovation that RT has brought to the field of power conversion over the past 22 years. Rectifier Technologies continues to invest heavily in R&D in Australia to bring highly efficient technological solutions which will contribute to providing a sustainable future for the ever growing energy demand of global Internet Data Centres (IDC)".